Non-Surgical Rhinoplasty in Virginia Beach
Conventiently located to serve Virginia Beach, Chesapeake, Newport News, Suffolk, Williamsburg, and Poquoson, VA
Some people with minor imperfections of the nose, such as a dorsal bump, droopy tip, slight crook, or low bridge, may not be ready to commit to a traditional rhinoplasty procedure but may benefit from a non-surgical rhinoplasty. There are also those who are not completely satisfied with the results from a previous rhinoplasty. While these people may long for aesthetic results, surgery is not necessarily worth the risk.
In these instances, Dr. Choe and The Choe Center can perform a non-surgical rhinoplasty in Virginia Beach. Using a custom tailored combination of dermal fillers, Dr. Choe can help you get the nose you want without the painful recovery of a surgical procedure. This 30-minute procedure can quickly and easily correct minor bumps, deviations, a sagging nasal tip, and other imperfections without downtime and with minimal risk.
Nonsurgical Rhinoplasty at The Choe Center
Decreasing facial lines and wrinkles is only one benefit of injectables. Today's dermal fillers provide excellent sculpting results for the nose, as well. Using a combination of Juvederm, Restylane, Radiesse, and Voluma, the nonsurgical rhinoplasty can correct contour irregularities of the nose that result from trauma, post-surgical scarring, and genetics.
Over the years, Dr. Kyle Choe has developed advanced techniques for improving the shape and form of the nose using dermal fillers. His nonsurgical rhinoplasty can fill in mild to moderate depressions of the nose, minimize the appearance of a dorsal hump on the nasal bridge, and restore symmetry. Correcting these problems and lifting the tip of the nose can even make the nose look smaller, as it blends better with the rest of the face.
The Best Candidate for Nonsurgical Rhinoplasty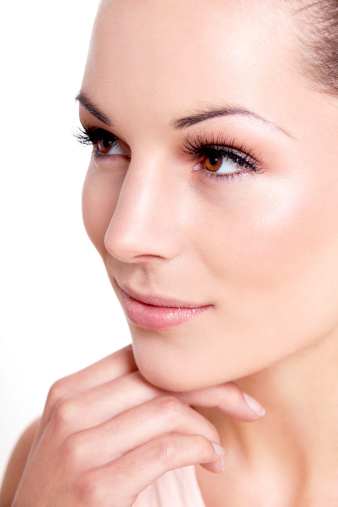 Men and women who are unhappy with the shape of their nose may find themselves a good candidate for the nonsurgical rhinoplasty at The Choe Center. Potential patients should be in generally good health, understand the benefits and limitations of the nonsurgical rhinoplasty, and have reasonable expectations for their results.
As the nonsurgical rhinoplasty option is noninvasive, there are limits to its correction abilities. Breathing or functional problems will need to be addressed with a surgical technique. Additionally, it is not possible to change the overall size of the nose. The results from a nonsurgical rhinoplasty are temporary, meaning that the treatment will need to be repeated again in several months.
Nonsurgical Rhinoplasty Consultation with Dr. Choe
Anyone who is considering rhinoplasty should start with a consultation appointment with Dr. Choe. During this appointment, Dr. Choe will take a few minutes to discuss your aesthetic goals and perform an exam of the nasal tissue. He will explain the nonsurgical rhinoplasty process, and discuss the best type of dermal filler for your particular situation.
By going over before/after photos of his recent nonsurgical rhinoplasty patients, you will have a chance to visualize the potential results. At this time, if a nonsurgical rhinoplasty option is right for you, a personalized treatment plan will be created to reach your desired aesthetic goals.
The Nonsurgical Rhinoplasty Procedure
Dr. Choe's nonsurgical rhinoplasty takes about half an hour from start to finish. Each procedure is performed at Dr. Choe's own AAAHC-accredited, Virginia Beach surgical center. Since only topical or local anesthetics are used, patients can drive themselves home after the procedure.
To begin, a topical numbing cream will be applied to the nose. Next, Dr. Choe will administer the dermal filler to the predetermined areas. He will continue with the injections, smoothing out sharp angles, restoring nasal symmetry, and contouring the nose for a more attractive appearance.
Results and Recovery from the Nonsurgical Rhinoplasty
The recovery from a nonsurgical rhinoplasty requires no downtime. Most patients are back to work the following day.
While the treatment area may be tender, and minor swelling and bruising may be seen, these will disappear over the next week. Using a cold compress and keeping the head elevated will help to keep swelling at a minimum. Exercise and alcohol should be avoided for 24 hours, and patients should refrain from wearing heavy glasses for about a week. A normal skincare routine can be continued.
The results from a nonsurgical rhinoplasty can be seen right away. As the swelling and redness completely fade away, the benefits will become even clearer. The results from a nonsurgical rhinoplasty will depend on the filler used. Juvederm will last for six months, Restylane lasts for about a year, and Radiesse or Voluma can last for 18 months or longer.
Nonsurgical Rhinoplasty Risks and Complications
Dr. Choe's nonsurgical rhinoplasty is a safe and effective way to improve the appearance of the nose without invasive surgery. There are few risks associated with nose fillers, but side effects are possible. These may include redness, swelling, and bruising. On the rare occasion, bleeding, asymmetry, and nerve damage may occur.
How Much Does a Nonsurgical Rhinoplasty Cost?
Since the nonsurgical rhinoplasty procedure is customized to address the specific concerns and aesthetic goals of the patient, the price can vary. After Dr. Choe has determined the best treatment approach for you, the procedure details and the associated cost will be reviewed with you
Find out if Dr. Choe's nonsurgical rhinoplasty is for you.
To find out more about a non-surgical rhinoplasty in Virginia Beach with Dr. Choe, contact his office at 757.389.5850. We are happy to answer your questions and concerns, as well as assist in scheduling a consultation appointment. For those traveling from outside of the Norfolk, Chesapeake, or Newport News area, please talk to a patient coordinator for assistance with directions or accommodation reservations.
Nonsurgical Rhinoplasty FAQs
Dr. Choe's nonsurgical rhinoplasty uses a variety of dermal fillers, such as Restylane, Juvederm, or Voluma to create shape and improve aesthetic issues on the nose.
Patients with mild to moderate aesthetic concerns may make a good candidate for the nonsurgical rhinoplasty procedure. Candidates should be in good health, understand the limitations of the treatment process, and hold reasonable expectations for their results.
Dr. Choe's nonsurgical rhinoplasty can provide excellent result in smoothing a nasal hump, minor dents and imperfections, as well as repair symmetry problems.
No, the nonsurgical rhinoplasty was created to assist with minor cosmetic problems, but functional issues generally require a traditional surgical procedure.
No, the benefits of nonsurgical rhinoplasty are temporary.
Depending on the specific filler used, the results can last from nine months to two years.
The nonsurgical nose job at The Choe Center will take less than half an hour, from start to finish.
There is no downtime after a nonsurgical rhinoplasty, so you will be able to return to work or school immediately.
Most patients do not consider the nonsurgical rhinoplasty to be painful, however, the injections may pinch. The tip of the nose, the nostrils, and the columella can be tender areas, so Dr. Choe will utilize topical numbing cream or local anesthetic, as needed, for additional comfort.
The nonsurgical rhinoplasty is considered a safe procedure with few risks. Swelling, bruising, and tenderness are common, however more serious issues are rare.